harjot Kaur decor stylists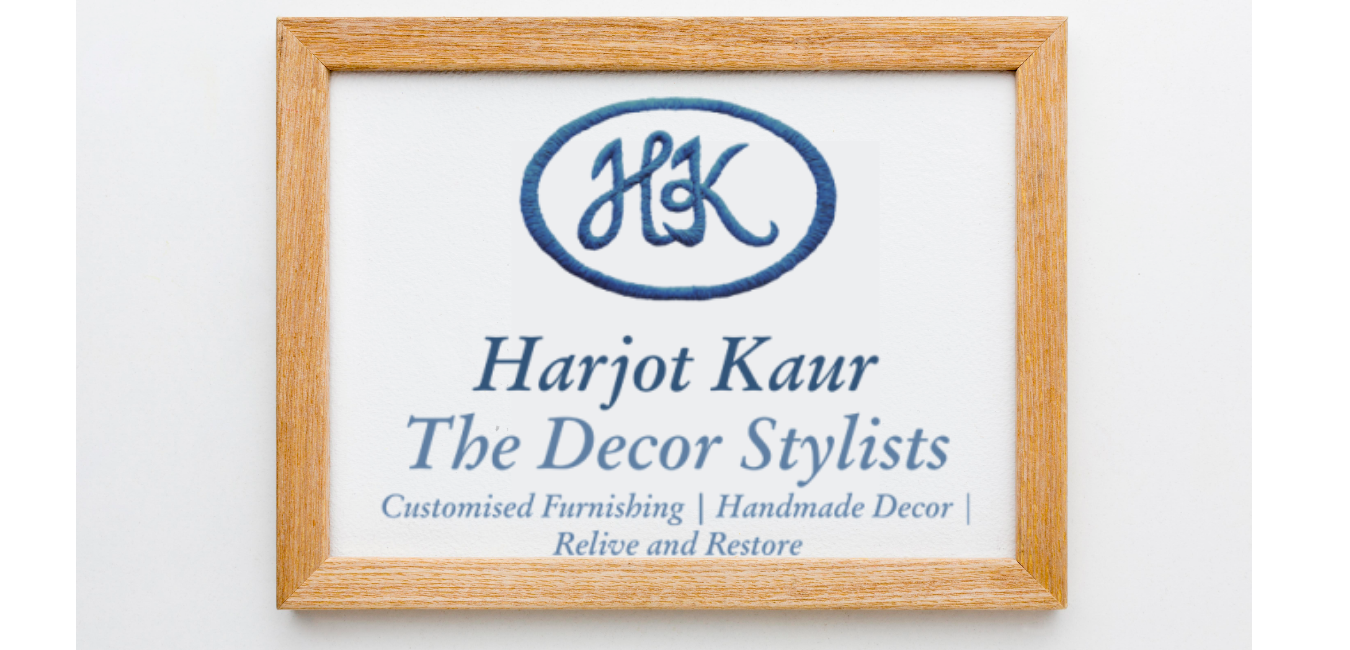 Do you wish your bedspread matches with your new curtains? Do you want your dinner set laid on table mats of the same design and pattern? Do you wish to own designs of your home décor from bedspreads to tableware, from curtains to mantlepieces? Your thoughts and our elegant craftsmanship make it possible for you. We create customized pieces you can proudly call 'your own'.
Harjot Kaur Décor Stylists is a home styling boutique that creates extraordinary customized home furnishing pieces for you so your home has a rhythm. We work in close coordination with clients to understand their taste of art and customize décor as per their requirements and ideas. We create hand embroidered designer pieces using surface thread embroidery, bead and stone embroidery, crochet work, stumpwork, crewel work, cord work, shadow work, needle lace, zardosi, raised thread embroidery and ribbon embroidery. For hand painting, we use techniques including free style using multiple colour shading, stencil art, dry brush art, spray and watercolour effects, block printing, element effects and infinite painting.
And if you wish to pick a unique piece from our collection of designs, you can do that too..!!
We also offer home styling consultation that helps you decorate your home that you find comfortable, soothing, and elegant at the same time.
Other than customized furnishings, we also offer to restore your heirloom pieces of furniture and furnishings, whether passed on to you by generations, or those that you bought to your own taste. Be it re-upholstering, re-polishing, repairing re-filling, or reviving, we take up all kinds of upcycling processes, so as to support reliving your beautiful memories as well as offer sustainable living on planet earth.
We are proud of our craftsmanship being featured internationally in 'Inspirations' magazine, the world's most beautiful embroidery magazine, based in Australia.
It was a way of life at my maternal grandmother's. Coming from a family of timber merchants and forest lessees, male members of the family were at the forests for a good part of their working lives, owning forests in the lower and parts of upper Himalayas. The women were 'alone and together'. It was a tradition in our family that any home furnishings, trousseau, and gifts were homemade and handmade.
As a child, I vividly remember playing with spools of thread and witnessing ladies add thread vibrancies to all those colorful pieces of fabrics.
Growing up, we were included in this festival of colors and texture; we were, all put together, experts in 18 types of thread art. Grandma used to make all her daughters and us, granddaughters, sit in large circles, with pieces of fine fabrics at a center of each circle, which all of us were supposed to embroider or paint, whatever the theme, while she would supervise us.
Ladies would chant hymns and bhajans along with work. We continued doing this into twilight each evening. By the time we were post-grads in our formal education, we were all experts in our respective threads and paint interests. Ladies from the neighborhood would come to lend a helping hand at times of occasions such as weddings, so grandma used to pay them and get work done; the more hands, the faster the work.
We are proudly the fourth generation carrying on this custom. It's been close to 100 years now.
Harjot Kaur Décor Stylists works on the same concrete foundation of teaching and working together, of living the dreams that each one of us envisions. Women who work with us get to learn and earn, becoming self-sufficient in the process, while clients get to see experience joy out of the customized pieces they have created out of their own ideas.
We work in close coordination with our clients, and keep them updated at every step of their work, incorporating their choices all through the process.
Upto 15% off on all products upto Diwali, so what more are you waiting  for? Hurry and book your products today..!!!

With new beginnings, come more celebrations. Here is a roll-out offer for you. As a launch program of our website, get a 
We offer you referral codes, where, if your friend uses your referral code to buy from us, you get a 10% discount on your next purchase.
We absolutely adore our clients. And this is our way to show you how special you are to us. Time and again we roll in new offers to keep you connected to us, in as many ways as we can.