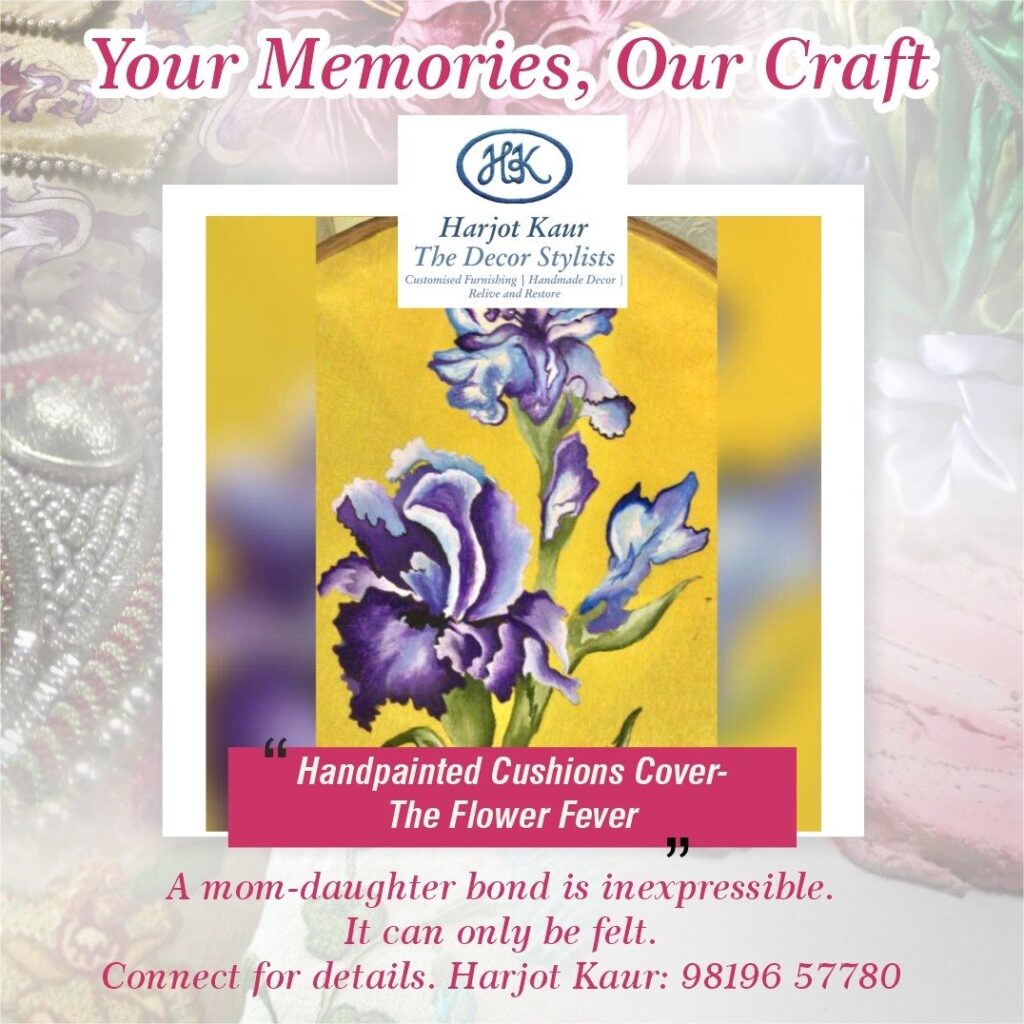 A mom-daughter bond is inexpressible. It can only be felt.

Your Memories, our Craft
"Mom loved flowers. She wanted flowers all around her, all the time.
Every Diwali, she draped and drenched our entire bungalow in flowers, in petals, in flowery fragrance, and in colors. She loved yellow and purple. She loved panzies. She loved silks. She passed away last year and this is the first Diwali without her. We won't decorate with flowers. What else can we do to commemorate her love for flowers, for happiness, and for life?", Mamta asked me.
I could resonate with her, I wanted to get flowers all around her. I wanted to make her feel her mom is still around.
We hand-painted for her, purple panzies, on a vibrant, bright yellow silk, so we could make her cushions and pillows, that she would hug and feel relaxed around.
Today I feel grateful to the Almighty that I could bring a smile to someone's face with my creative expression.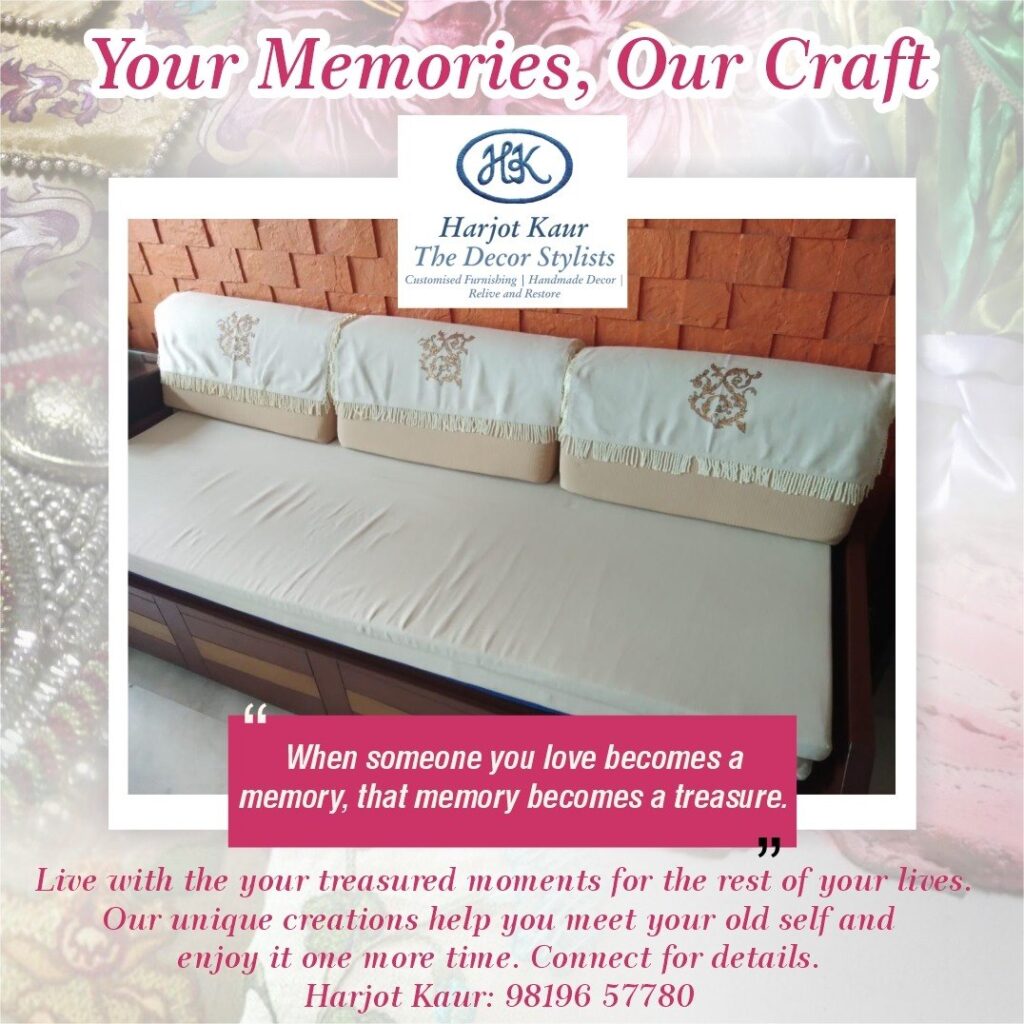 She was my first client, a petite advocate from Worli, Mumbai, very particular about her home and her belongings, she wanted a sofa cover and some sofa backs.
Very clear and precise about her demands, she wanted a "no-nonsense look about her living room, with a whiff of quirk, and that too in sync with that already is", is what she told me in her first meeting.
I was very clear about her wanting no prints and no colors. But what about that quirky element? I thought to myself.
She had a wallpaper highlight on her wall, which was the only focus of her entire living space, and she said she would never get rid of it as it was her deceased husband who chose it for her.
We brainstormed quite a bit and brought to her notice, a small motif on the wallpaper, very individual, very independent from the design around it. It looked just 'classic'.
The next thing she knew was that we were hand-painting that motif for her on her sofa back, keeping the rest of it plain and beautiful. She was so overwhelmed with emotions and so tearful the day we showed her the pieces, she said she felt her husband come closer to her.
The best thing about her was when she found out she was our first client, she gave us an additional amount as 'startup shagun' she said…!!!
Rohit had just adopted this golden Retriever puppy, and was so happy to get him home, they would spend their mornings together: Rohit sipping on his tea and a sleepy Buddy wanting to sleep more while cuddling in Rohit's arms.
Six months into his life, Buddy developed complications and crossed the rainbow bridge, leaving a vacuum in Rohit's heart, forever. Rohit's mother could feel that emptiness in his eyes, devoid of energy after Buddy left.
On the day Buddy would have been one year old, Rohit's mother wanted to gift him a beautiful piece that reminded him of the beautiful times he had spent with Buddy.
We made for Rohit, a hand-painted cushion cover with Buddy's painting on it, that he could snuggle with, remembering the beautiful bond they shared.
Rohit says when he snuggles the cushions, he feels Buddy cuddling him, and he feels alive again.
I am teary-eyed when I write this.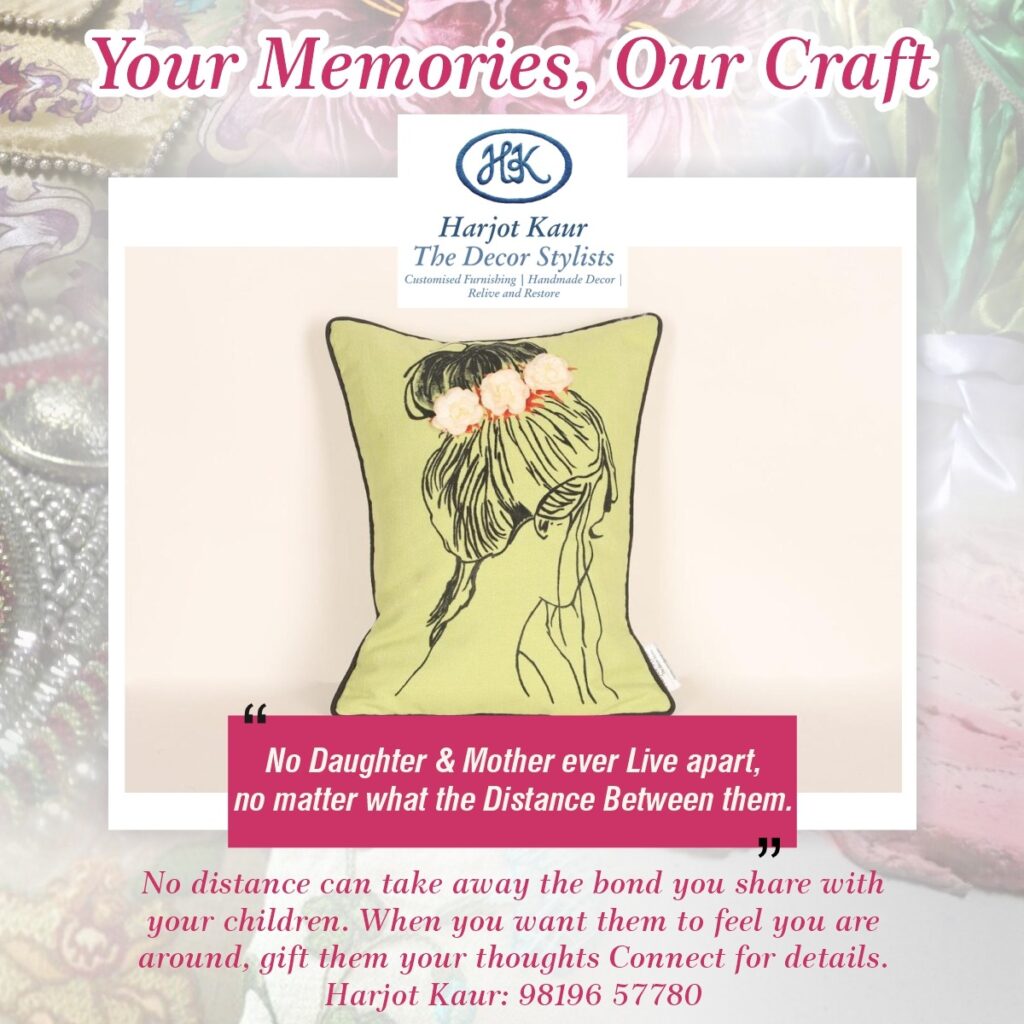 When Richa became a professional Ballet Dancer, her mummy, Bindu ji, wanted to gift her daughter, a token of love and luck.
Binduji said she wanted a pretty, small-sized, light-weight, customised, daily use product, something to do with Ballet, and her daughter.
We made her this cushion cover, with her daughter's ballet silhouette, with her favourite flowers in her hair, added on as an accessory.
Now Bindu ji's niece wants it too…!!
She, however, is a scientist. We are now planning to give her, 'herself in her science lab', kind of a piece..!!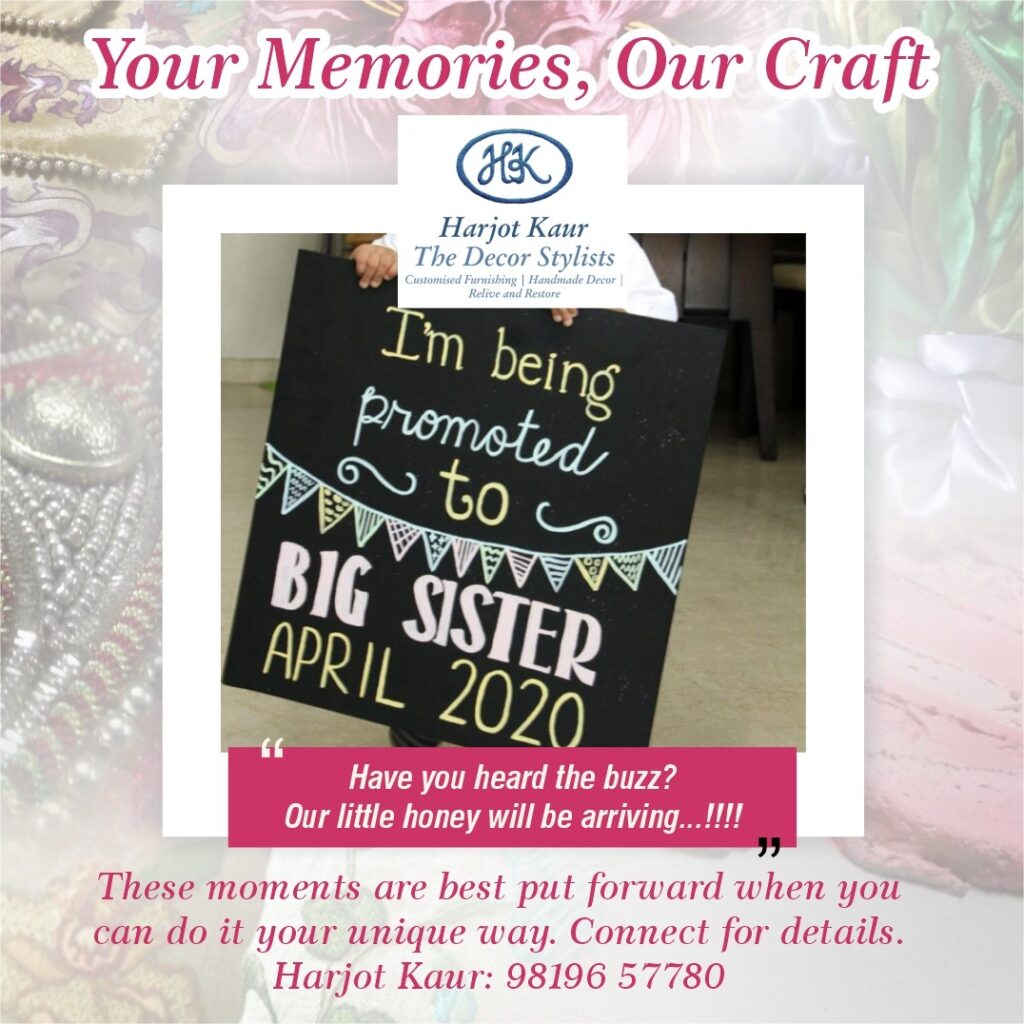 Need we say more about this beautiful memory of announcing a new member in the family. No words can well explain the feeling.
To craft your memories in beautiful decor. do connect with us at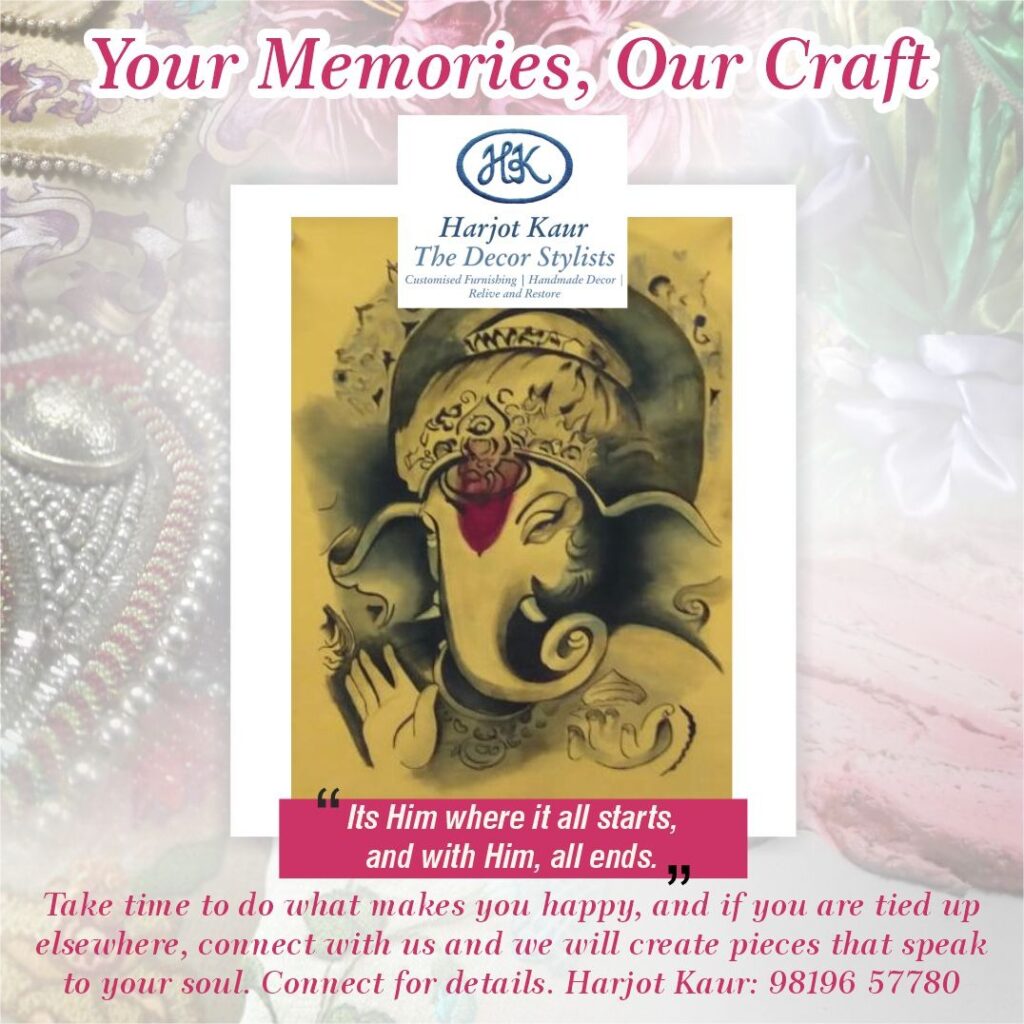 Its Him where it all starts, and with Him, all ends.
Your Memories, Our Craft.
This one counts among the most beautiful memories of my life. Harjot Kaur Decor Stylists was born with this very piece. We were making preparations for the 2016 Ganesh Chaturthi when divine intervention happened, and I painted this piece on fabric in 3 days. When Ganpati ji came to our home, that was the day I put this piece on my Facebook for a display of my work. By the time Ganesh Visarjan happened, we had got enough orders to keep our entire team busy for the next 3 months. And there's no looking back since then. Ganpati Bappa Mourya..
Take time to do what makes you happy and if you are tied up elsewhere, connect with us and we will create pieces that speak to your soul. Connect with us at