For Inspiration, use calenders, mood boards, quotes and posters, but only to a certain extent.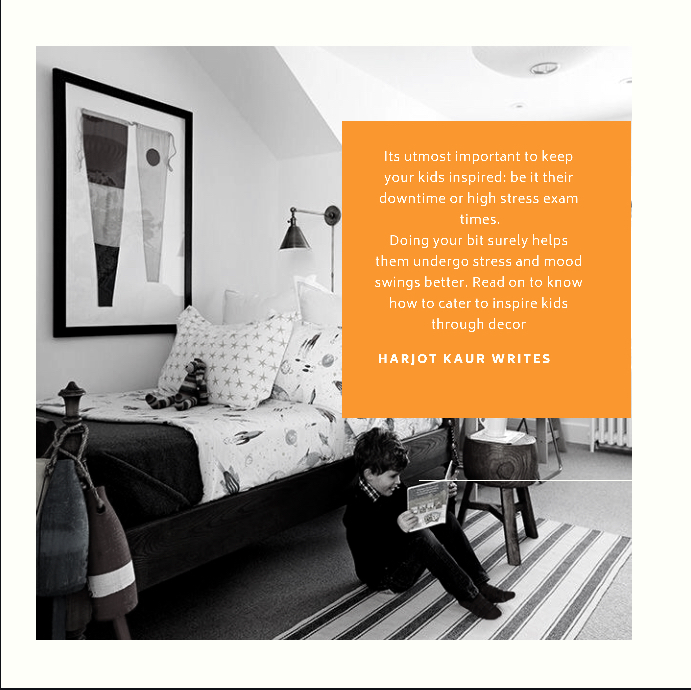 Try to inspire your kids with mood boards-place things of your kids liking so as to make him like his room and his place. Give the importance of his choice so he feels cherished and wanted and likes his room. There are examples where kids dislike their rooms so much so to not use them at all…!!!
Put a small calendar marked with their past achievements, their exams and all other past and future important days to keep them motivated. It is important to re-live good and bad memories both, with your kids, to teach them the value to things lost and cherish their achievements and be ambitious for challenges ahead.
Putting inspirational quotes and their favourite personalities also makes them work towards their own goals. You are the best judge of what inspires your child the most. Make use of your conversations with them and find out what would drive them to be better human being.
You must add interesting décor elements like rugs, nice pillows and cushions, photo frames, vision boards and the like. Include your child's interests and likings in their room.
Take them for shopping when buying décor for their room. Buy cushions, pictures, posters and photo frames where they have their favourite cartoon characters and use them to make kids feel special and important. Ask for their choice when choosing rugs or pillows. Put up their art works in their room. Does your child like gardening/ put artificial planters and something to induce interest and keep your child happy. There are many plants that are hardy, low light, and help clean the air so the mind is kept sharp.

Casual reading space can be separated from focussed study area. A couch or a mattress on the floor, with added pillows and comforters make for nice décor and changes the much stressed mood from focussed study.
Do you know colors have the ability to psychologically affect a person? It makes them to feel happier. According to a study, some colors can even enhance your thinking skills. Adding décor of appropriate colours greatly ehnaces your child's performance.
Color greatly affects your productiveness. Research has shown that blue color affects your mind, yellow affects emotions, red affects body and green affects your balance. Combining these colors can greatly influence your study behavior.Use the color purple if you want to enhance your child's creativeness.