It's tough to keep spending money on styling our homes every now and then. On the other hand, we get so bored with the same ambiance. Here's a solution to this riddle.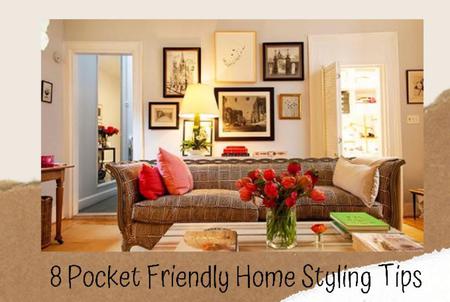 HOME STYLING TIP #1
Use lighter shades on large surfaces like walls and beds. This makes your space looks larger.
Darker shades of the same color, used on smaller pieces and decor, help jazz up space, keeping a sense of expanse intact. Use whites, greys, blues, and neutrals soothe your senses.
HOME STYLING TIP #2
Artwork lends life to walls and mantelpieces. More so, if they are customised for you.
Relief/3D art offers depth and texture to your ambience. Be it structured or abstract, the choice of colours depends upon the feel you wish to achieve.
For larger walls and room, a bigger sized frame looks grand, for smaller room, however, making a group of wall art element looks great.
HOME STYLING TIP #3
Place one statement cushion on the focus point and add plain/printed cushions and throw pillows on rest of the place. Just make sure they all have one common colour this will take your decor game to the next level.
HOME STYLING TIP #4
Black is infinitely chic,
undeniably mysterious and
deeply misunderstood.
Adding a hint of black decor, furnishing or a statement piece, instantly ups your decor game. Be it a photo frame, an abstract vase, or even a statement cushion, it raises your spirits and adds another dimension to the space. Typically when used in a dull and unused corner of your room, it adds to the size illusion, making your room look larger.
Pro Tip: Don't tend to overuse the colour, it will clash with other pieces.
HOME STYLING TIP #5
Victorian Furniture looks elegant and expansive, if chosen in light colours. Choose high back chairs and headboards to fill up the room. Intricate floral printed fabric tends to bring nature inside your room.Pro-TipIf choosing printed fabric, keep your curtains simple, so prints dont clash.
HOME STYLING TIP #6
When choosing paints for your room, base your decision upon the existing furnishing elements that you want to retain.
Take cues from your closet, colours you love you wear always look good in your home.PRO TIP: Choose finishes with care, glossy paints can be easily cleaned;must be used in kitchens and bathrooms, while matte paints are apt where walls are chipped off or repaired.
HOME STYLING TIP #7
Since mirrors and reflective surfaces bounce light, they make space appear larger than it actually is, so mirrors help alter the look and feel of spaces
For narrow rooms, put a large mirror on the longer wall for your room to appear broader.
PRO TIP: For added glamour, sync the frames of mirrors with the decor theme of your room.
HOME STYLING TIP #8
Be it wood or iron, with or without storage, your bed is bound to wither with time, and you cannot replace this expensive piece of furniture as soon. So all you need to do to stylise it, is to add fabric skirts to the edge. Alternatively, you can also use skirted or pleated bedsheets. This will give your room a pleasant change each time you change your bedsheets.